Newly built SISTO TechCenter
SISTO Armaturen S.A. invests more than three million euros in a new tech centre where valves and accessories for the pharmaceutical industry will be newly developed and refined. SISTO is thus consolidating its leading position in the pharmaceutical and biotech industry.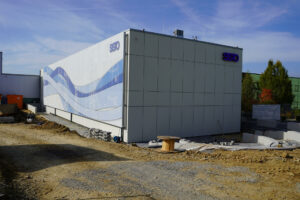 The new building has a floor area of 350 square metres and is divided into two levels. The lower level will be equipped with state-of-the-art testing facilities specially tailored to the requirements of the pharmaceutical and biotech industry. On the upper level, new office spaces have been created for research and development, providing a modern working environment. The new building will be officially placed into operation in the first quarter of 2023.